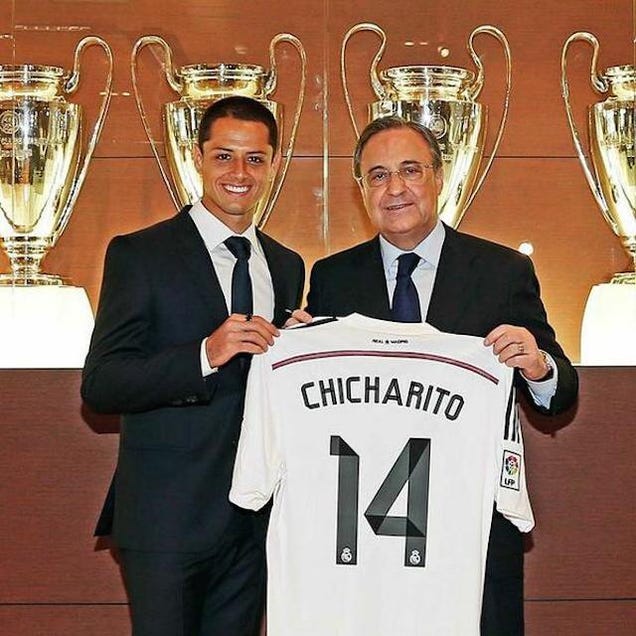 Another crazy transfer deadline has came and went, and after a couple tense hours of waiting, it appears most of the biggest moves, like Radamel Falcao to Manchester United, were squeezed under before the curtain fell. Here's a recap of the biggest moves completed yesterday:
It was a deadline day of strikers, and no new addition was as big as Falcao to United. This whole ordeal almost turned into another opportunity to laugh at the continued ineptness of the Red Devils when the deadline passed and there was still no confirmation, but alas, the one year loan agreement went through. Just a couple days ago the blue side of Manchester were reportedly in pole position to acquire the Colombian, but with rumors of Robin van Persie's imminent knee surgery, the club managed to close the deal before any of the other suitors. A pretty good stopgap, I'd think.

With Falcao in tow, United were able to offload a striker to one of the rivals for their new star's signature, Real Madrid. The Spaniards

picked up Javier Hernández

on a one-year loan with an option to buy. As now the second of only two strikers Madrid have on their roster, Chicharito will see more minutes as both a sub and an occasional starter than he was in line for at United, which should keep him happy. Also, starter Karim Benzema won't feel threatened for his position, which wouldn't have been the case had they gotten Falcao as everyone assumed. Weird—a Florentino Pérez move with an eye toward chemistry.

United were involved in a couple more key transactions yesterday, too. The biggest here was, yes, the shipping off of another forlorn striker, Danny Welbeck, to Arsenal. Who knows how good Welbeck can be will regular playing time, but he's already an upgrade over the Gunners' other true center forward options behind the injured Olivier Giroud. To cap their transfer activity, Utd finalized the Daley Blind signing.
Manchester City didn't manage to add Falcao to their squad, but they did lose Álvaro Negredo, who was "loaned" to Valencia. (Scare quotes because, like so many Valencia "loans," this automatically becomes a purchase when the loan is up.) Valencia now have Negredo, Rodrigo, and Paco Alcácer up top, which is either a very deep strike team or a recipe for disaster when one or two get fed up with the lack of minutes.
Elsewhere in Spain, Atlético Madrid were able to finalize the deal for Alessio Cerci from Torino. The winger was one of Italy's few bright spots in Brazil this summer, and all of the sudden Atléti's attack looks better than last year's La Liga-winning version even without Diego Costa.
And yeah, this kid doesn't exactly deserved to be mentioned alongside Falcao and Chicharito in terms of important transfer moves, but I know you're interested: Bayern Munich winger and future American hero Julian Green has been sent on loan to Hamburg, where he'll actually get games! Time to show what you can do, kid.
There were a number of smaller profile transfers that could end up important a little further down the tops of the table in Europe's big leagues: Hull City stocked up on promising young guys, adding Uruguayan striker Abel Hernández, former West Ham midfielder Mohamed Diame, and getting Gastón Ramírez on loan; QPR couldn't convince Fabio Borini to join them but they did nab Sandro; AC Milan's trainwreck of a window continued with their public presentation of winger Jonathan Biabiany right before the deal fell through, and more significantly when they sold one of their most promising youngsters, the 19-year-old Bryan Cristante, to Benfica; etc. etc.
It was an action-packed deadline befitting what was an action-packed transfer window. But like always, let's not get caught up in the rumors and transactions and lose sight of what the window is supposed to be about: improving actual teams on the pitch. It was fun while it lasted, but now the real fun starts.
Photo via World Soccer Shop