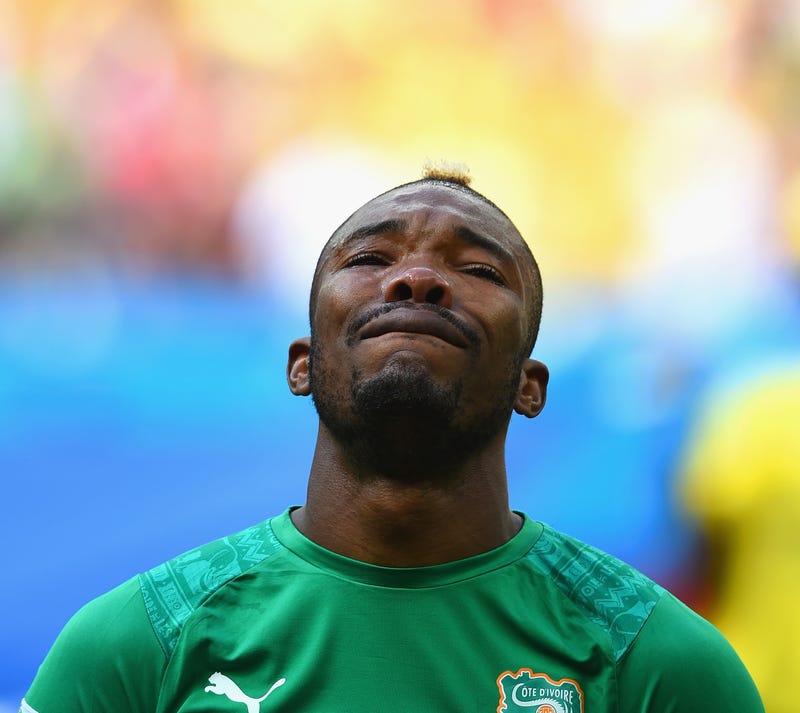 Ivory Coast midfielder Serey Die shed tears while attempting to sing the anthem today. It wasn't patriotism—it was soon reported by multiple outlets that Die had learned of the death of his father two hours before kick-off. (The rumor appears to have been started by a hacky Twitter account.) It turned out to be false—his dad died 10 years ago.
An official with the Cote D'Ivoire team just told me Serey Die's father died in 2004, not two hours before kickoff.

— David Waldstein (@DavidWaldstein) June 19, 2014
He said Die was thinking about him during the national anthem, which is why he grew so emotional.

— David Waldstein (@DavidWaldstein) June 19, 2014
Die later clarified on his Instagram, writing (translated by 101 Great Goals):
"Hello, I just want to say that it's wrong what they all say, that I was moved because of my dad, but he died in 2004 and it was just the excitement of being in a World Cup and serving my country, Ivory Coast. I never thought one day I would be at this level of competition."
Whatever the reason, POW—right in the feelings.