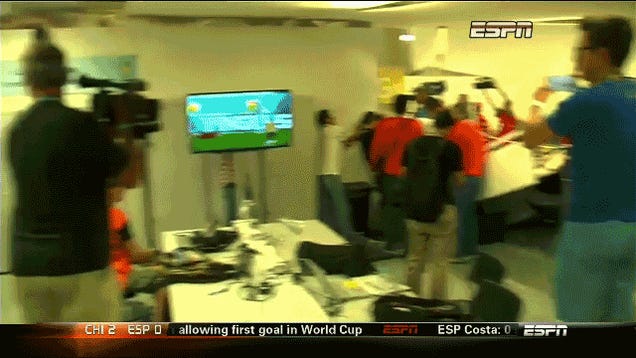 Chile supporters are out in force for their match against Spain this afternoon, a red sea descending upon The Estádio do Maracanã in Rio—many of them without tickets. About an hour before kick-off, the dam burst.
Many of the Chile fans—perhaps hundreds—made their way through the media center in an attempt to reach the stands. There have been reports of glass broken, barriers knocked down, and naturally it's all been tweeted by media folk:
Total chaos at Maracana as dozens of Chile fans break through fences + charge into press centre. pic.twitter.com/zl9cCBJFlB

— Martyn Ziegler (@martynziegler) June 18, 2014
This was the start of it. Maybe a dozen fans or so. Many more later. pic.twitter.com/Y1IlZpdW1n

— Greg Bishop (@GregBishopSI) June 18, 2014
Complete chaos in the Maracana press centre. Group of Chile fans running amok pic.twitter.com/2ngmjZqfWi

— Gavin Hamilton (@WorldSoccerEd) June 18, 2014
It's a real mess here. Hopefully no one hurt. pic.twitter.com/8QJ4Shc3IA

— Matthew Stanger (@MatthewStanger) June 18, 2014
Some were collared; most made it through.
The aftermath. Seems like most we're Chile fans. pic.twitter.com/sroTaq00va

— Graham Watson (@Yahoo_Graham) June 18, 2014
Hundreds of Chile fans just charged a gate and broke into the press room. Now rampaging through Maracana pic.twitter.com/uUUiXxBPT2

— CasualUltra.com (@CasualUltra_) June 18, 2014