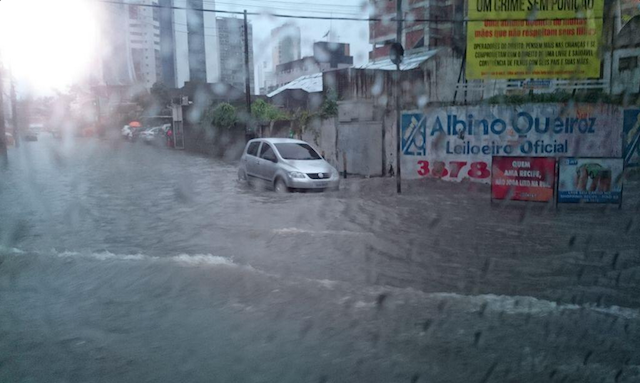 The USA and Germany are just a few hours away from kicking off their final group-stage game in Recife, Brazil, and people are having one hell of a time trying to get to the stadium. That's because a torrential rainstorm has flooded portions of the city.
This does not look like fun:
2 feet of water on the streets of Recife. Hammered it down all morning. @talkSPORT #GER v #USA LIVE 5pm. pic.twitter.com/xhIzLRdFOM

— Stan Collymore (@StanCollymore) June 26, 2014
The water is at least 2 feet high in Recife. pic.twitter.com/giH6h7pib1

— Sam Borden (@SamBorden) June 26, 2014
Can confirm reports that streets are flooded in Recife, site of today's #usmnt vs. Germany World Cup match pic.twitter.com/2IVI4MuU2s

— Rick Maese (@RickMaese) June 26, 2014
Luckily, things seem to be a bit more manageable at the stadium:
Rains light but steady at stadium. Preparations continue. #USAvGER pic.twitter.com/67c49N38Aw

— jim witalka (@jwitalka) June 26, 2014
Pulling up to stadium, which looks like it's gonna be fine. Really doubt that this will be postponed. Traffic outside metro area manageable

— Pablo S. Torre (@PabloTorre) June 26, 2014
It doesn't look like there's any reason to believe that the game will be postponed, the question will be whether anyone can actually make it to the stadium on time.
We've gone about five miles in an hour. Google Maps says we're only 39 minutes away! We're not. Google Maps is drunk.

— Mike Foss (@themikefoss) June 26, 2014
We suggest that all U.S. supporters find Teddy Goalsevelt. He will lead the way to glory:
Flooding in Recife. Teddy Goalsevelt guiding our car through the tough waters. Onwards to the stadium! #LetsDoThis pic.twitter.com/lUEi5Rcxlf

— U.S. Soccer (@ussoccer) June 26, 2014